Energy Solutions
Solar Power
With the continuing development of solar technologies, it is a natural step for Mindificient Solutions (MS) to progress solutions in innovative solar energy. MS has developed a robust supply chain & procurement arrangement with solar energy technology suppliers in Pakistan, USA, China, and Korea. Suppliers provide for such as solar panels, inverters, batteries, charger controls and system management. Of particular note is MS's association with the leading solar panel manufacturers operating out of UK, China and Korea.
Since its inception, MS has made its goal to be the standard bearer for the alternative energy industry and to bring clean, green electricity both to the urban environment and the periphery. We have the ability to operate across the MENA region and some south Asia countries. MS intends to become the leading company in the above-mentioned region for the implementation of alternative energy systems. We will accomplish this by virtue of our team of the most experienced and highly skilled team that we have, top standard quality brands that we work with and high standards for our quality products which were set by the MS management. Our professional workforce focuses on the design and construction of each individual project – right down to the smallest details.
DOMESTIC SOLAR SOLUTIONS
Investing in solar energy system for your home is one of the best ways to save money as it not only increases the value of your home but also protects you from future increases in electricity tariffs, and you contribute in enhancement of the environment by utilizing clean and green energy and to achieve that Mindificient Solutions (MS) is your best choice for providing domestic solar solutions in Pakistan.
We, at MS envision to provide the world's best solutions at affordable cost. We assist our clients optimize day-to-day energy requirements in a cost-effective manner. Different types of residential solutions are available with respect to customers' needs and requirements
On-Grid Solutions
Off-Grid Solutions
Grid-Tie Solutions
Our team
will discuss with you,
will understand your needs,
will study your load and your pattern of usage and after visiting your premises; we shall advise you with the best practical solution.
Existing sources of energy are becoming increasingly expensive as they are being depleted, but solar is a plentiful, reliable and renewable energy source.
HYBRID SOLAR SYSTEMS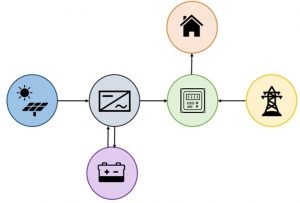 A Hybrid Solar System in Pakistan (Grid-Tie with Power Backup) is basically a grid. Which is a connected solar system
with batteries combined with an off-grid system. The electronics continuously monitor the batteries, the solar panels and the grid and decided when to charge / discharge the batteries.
When to connect / disconnect from the grid?
This may sound very similar in cost and complexity to an Off-Grid System. But the crucial point to understand is that, because your system is not totally disconnected from the grid, you save a lot of money on system components. The grid is always there if you need an electricity top up. This means that your system needs fewer batteries and depending on Grid failures no need for a backup power source (i.e. expensive diesel genset or any other source).
Off-Grid or Stand-Alone Solar System
Stand-alone PV system and Off-Grid Solar System operate independently of the electric utility grid (off-grid). They are most often used in remote rural areas where the electric grid does not reach. Or where the connection fees for access to the grid are higher than the cost of an alternative energy system. The DC power generated by these systems is stored in batteries. Converted to AC power for household or commercial usage. Stand-alone Solar Power System are best suited for remote village and rural electrification projects, and provide a more affordable and reliable source of electricity, particularly in more remote rural areas utilizing only diesel generators.
WHAT DOES "LIVING OFF-GRID" MEANS?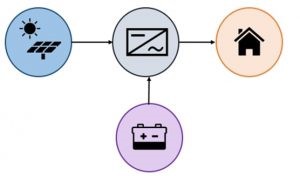 Living off-grid does not mean living without electricity, nor does it have to mean a very rustic lifestyle, simply put, being "off-the grid" just means you are your own power company. You can be off-grid in the middle of nowhere, or you can be off-grid in the middle of everything. There are many reasons to be off-the-grid, but typically off-grid solar system (stand-alone) solar electric systems are used in remote locations where connecting to the local utility gird is impossible or prohibitively expensive, in areas where grid power is inconsistent, or due to the appeal of an independent lifestyle, with an off-the-grid system, solar panels, a small wind turbine, a micro hydro system, or a combination of these technologies and others, is used to supply all of the power a cabin, home or business needs.
Common Off-Grid Applications:
Remote homes and cabins, water pumping systems, livestock watering, telecommunications, RV's, boats, sign lighting and traffic warning lights are just some of the places off-grid-solar and renewable energy are utilized. In some off grid systems a home back up generator may also be included to supply power. When the renewable technologies can't produce enough to meet demand. Off-grid living completely relives you off dependency on the electrical utility, because the system provides all of your power. Due to this, off-grid systems are generally larger than grid-ties. To be fully independent, a system must have a larger wind generator or array of solar panels. They have greater battery storage capacity than in applications where grid power is available. However, if done properly, living off-the-grid an save you thousands to lakhs of rupees over the life of the system (depending on your average bill).
Off-Grid Advantages
Off-grid solar, wind and micro-hydro allow you to live independent from utility power, and/or off the beaten path.
A well designed off-grid system will also have an environmental advantage, helping you reduce your carbon foot print.
On-Grid Solutions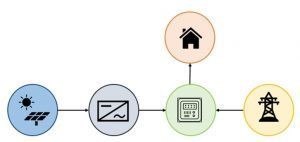 On-Grid Solar system is designed to get maximum efficiency from PV panels and is deriving the load with an on-grid power inverter which is installed on the main and any power generated from the solar is used first and excess power if required is fed from the grid. (Excess Power may be sold to the grid in future with net metering facility). In the absence of grid (load shedding) the system stops working and automatically starts when gird power is restored. No backup is available in the system and no battery or charge controller is required. Factors considered are total electrical consumption, location, exposure and budget. The electricity grid acts as a 100% efficient and maintenance free battery while also providing unlimited 'on demand' energy. This is what makes grid connected solar electricity so attractive It has all the benefits of being attached to the electricity grid but a portion of your electricity bill never increases in price. Your home/industry is hooked up to both the national grid and solar electricity system, so you will always have electricity available at the flick of a switch even at night, or if it is cloudy. You will only ever be billed if your power consumption exceeds the amount of power you are generating.
Why On-Grid system?
Main Features are as Following:
More money with net metering and grid-connection will allow you to save more money with solar panels through better efficiency rates, net metering, plus lower equipment and installation costs.
he utility grid is a virtual battery. Electricity has to be spent in real time. However, it can be temporarily stored as other forms of energy (e.g. chemical energy in batteries). Energy storage typically comes with significant save losses.
Solar Based Products
Integrated Solar Street Light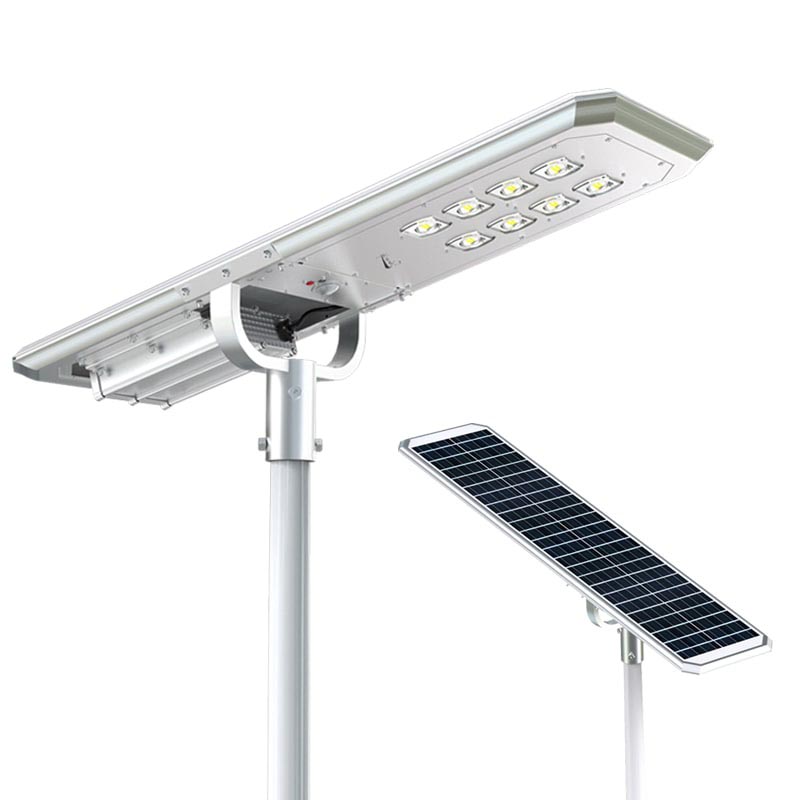 We provide high quality, engineered systems that include Solar LED Lights and Solar-Electric Power Generation Systems; which are free from the utility grid. We also provide Integrated Solar Street Lights that are totally off-grid, as the solar panels, battery, LEDs and even motion sensors are all built in one single unit; no need to bare the costs of excavation or underground electrical cabling and of course you save on the electricity bills. These Integrated Solar Street Lights are one of a kind and designed in the most modern manner and are equally ideal for residences, parks, road sides, small to large sized sparking lots, graveyards, remote areas, etc.
Solar Air Conditioners
MS' 100% solar powered air conditioner makes the best use of solar power; as there are no losses associated with converting DC power from the solar panels into AC power to run a standard air conditioner. Using standard solar panels which produce native DC power, the air conditioner avoids the inefficient addition of an "inverter" that converts solar DC current into AC current. Plus, the SPP brushless permanent magnet motor with digital frequency controller provides for a variable frequency drive that allows the system to dynamically adjust its capacity based on conditions. Apo 100% solar powered air conditioner has been designed to make the best possible use of costly solar photovoltaic panels. it will use fewer solar panels that would be required by the same capacity standard AC-powered air conditioner of the same max capacity running on solar panels through an inverter. The system is perfect for residential, commercial, telecom, portable classrooms or offices, or remote facilities where conventional or generator power is costly and/or unreliable.
Features
Solar powered air conditioning requires no AC power.
Proprietary Compressor provides high efficiency operation and slow start to avoid high inrush current at startup.
Overnight operation – for up to 16 hours night time usage.
Innovative control logic saves energy by matching cooling capacity to demand.
Uses standard deep cycle battery.
Uses standard solar panels.
Quite operation.
Works with external standard charge controller.
Solar panel and battery requirements will vary based on application and local sunlight conditions.
Can be AC-coupled if desired.
Main Functional Characteristics
Ultra-mute to work, when the low-speed running the wind speed as low as 26 db
Mitsubishi compressor, high reliability and long-lived running
"UP-titanium" strong bactericidal (optional), Multi-filter (optional). Air fresh
Four-fold heat exchanger, high-quality inside screw steel pipe, hydrophilic aluminum box, energy-saving and power-saving
Intelligent e-Touch, handy and power-saving, it was easier for the elderly and children operation
Fluorescent button control, visible at night
Intelligent defrosting.
If the products probably have changes in the design specifications, functions, performance and other technical parameters and the appearance and structure without notification. please refer to the name brand of the products. The publicity materials have been proofread, but there might be errors and omissions. Restricted by the printing conditions, the product pictures and actual effects have slight deviations. Hope you can understand. The company reserves the authority for the final interpretation of the publicity materials.
Super silent design, Quiet enjoy the tranquil life

Four-Fold Heat Exchanger
As one of the core components of the air-conditioner, solar air-conditioner adopts four-fold heat exchanger, heat exchange effective area is increased by 20%-40% than V-shaped and flat-plate heat exchanger, with the refrigerating and heating effect greatly improved.
Hydrophilic Aluminum Box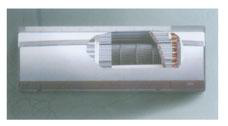 Normal aluminum box forms aqueduct after condensation, which will block the air channel, make the traditional performance poorer and cause the decline of the refrigerating ability, while the hydrophilic aluminum box forms lamellar water film after condensation, which doesn't block the air channel and decrease the ability.
High Quality Of Internal Thread Copper Pipe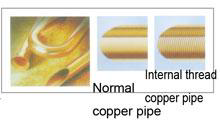 Compared with the normal light pipe, the heat radiating area of the internal thread copper pipe is significantly enlarged and heat exchange effect is significantly improved, which can resist frosting and whose starting ability at low temperature is stronger and the refrigerating and heating effect is more outstanding.
Low resistance return air grille silent design
Panel rectification return air inlet silent design
Fan blade shape silent design
Heat exchanger backlash the best design
Small vortex tongue silent design
Back indraft airflow optimal design
Small vortex of the back of the tongue silent design
Resumption of the tension section blow mouth silent design
Low resistance ventilation grille design mute
Low resistance to supply air baffle silent design
Solar LED Lightening Solution
MS has partnered with the world's leading LED Light manufacturers to insure energy efficiency and quality products for indoor and Outdoor applications. LEDs consume up to 80% less power than conventional light bulbs and have longer life span as much as 50,000 hours. It is reasonable to consider it onetime cost and significant saving in monthly electricity bills. LED lights are extra ordinary durable as compared to incandescent or fluorescent bulbs. In addition, we also offer different sized solar street lights for parking lots, streets/road sides and area illumination in off-grid areas using highly efficient components carefully selected by our team of experts.
Submersible Pumps or Solar Water Pumps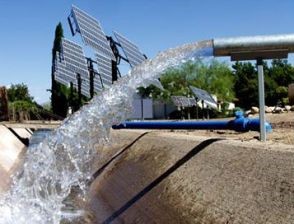 Submersible solar pumps are generally used for pumping from wells, and are designed to fit inside the well casing in a drilled hole. The most common casing size is 6" but 5" and 4" are also seen in older wells. Some older wells drilled for windmills are less than 4" (usually 2.25"), and solar submersible pumps will not fit. The well may be anywhere from a few feet to 1800 feet deep – but the deeper the well, the more expensive the system. Depths over 500 feet will generally cost quite a bit more.
Solar powered well pumps are seldom suited for large amounts of water, such as irrigating larger fields if you have AC power available. The largest pumps generally available are ¼ to 3 HP.
Advantages
Solar-Powered Water Systems are practical in flat terrain where the sun shines. Solar-Powered water pumps can be placed in or next to the pond or other source of water and the water can be pumped where it is needed.
Solar Water pumping is clean and efficient.
Solar electric water pumping cuts down on waste because it is based on natural cycles. Your panels give the most pumping power on the sunniest days – when you need the most water.
Solar power is clean. You never have to worry about polluting the groundwater or air with a gas-powered pump.
Solar-powered water systems take very little maintenance because they only have a few moving parts. They have long life – usually 20 to 40 years. And solar water systems never run of fuel as long as the sun is shining.
No fuel costs or spills.
Easy to install
Simple and reliable
Unattended operation
System can be made to be mobile
Standard System Consists of:
Solar Modules – Poly Crystalline or Mono Crystalline
Submersible Pumps
Solar Pumping Inverter
PV Modules Mounting Racks
DC – AC Cables
MC3 – MC4 Connectors
Motor 3 Core Flexible Cable